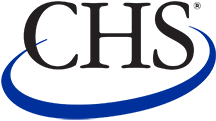 KALISPELL, MT — With 14 gleaming Sukup steel hopper tanks, the recently completed CHS Mountain West Co-op elevator at Kalispell, MT (406-755-7400) has a total storage capacity of 468,636 bushels.
The 27-foot-diameter Sukup tanks each hold 33,747 bushels. The contractor/millwright for the project, which includes a 4,730-ton dry fertilizer plant in a 146-foot-x-134-foot building, was Stueve Construction of Algona, IA (1-800-357-3110).
A Warrior Mfg., LLC system of legs and conveyors supports a receiving capacity of 10,000 bph, and a loadout capacity of 20,000 bph, according to Chad Pearson, CHS construction project manager.
The new site replaces CHS's downtown Kalispell elevator, which had been in operation since 1909. The city of Kalispell, with a population of 23,000 in northwest Montana near Glacier National Park and several national forests, has been growing, necessitating the elevator's move.
Construction began June 18 and finished Nov. 19 on the new facility in Glacier Rail Park, a rail-served industrial park east of Kalispell.
The 54-car rail track is operated by Mission Mountain Railroad and is situated on BNSF's Great Northern Corridor.
We will have a Facility Feature article on the project in the January/February 2020 issue of Grain Journal.
Photos by Bruce Selyem.