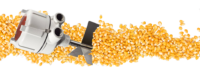 Established in 1953, BinMaster designs and manufactures bin level indicators, control systems, and sensing devices. In March 2022, the company introduced the BMR-100 rotary sensor, which is designed to offer simple electromechanical measurement of stored grain, feed, seed, or fertilizer.

According to Nathan Grube, regional vice president of sales-central region, "This versatile, rotary level indicator is a workhorse that prevents overfilling grain bins and provides low-level indication for truck and rail loadout. The BMR-100 works with any type of powders and bulk solids."
Highly Functional
"Rotary level indicators are more popular today than they've ever been," says Grube. "The BMR-100 is highly functional, and at less than $400, it's a really good option for the price. It works well in all conditions, so every bin should have one."
Features
• Versatile for use in a variety of powders and solid materials with a bulk density of 2 pounds to over 100 pounds per cubic foot.
• Available with 19 different rotary paddle options to match the material.
• Mounting plates are available in 0-, 10-, 20- and 30-degree pitch to match virtually any bin roof.
• Can be wired to a light horn or alarm panel, or it can send a signal to a control room.